Introduction: It continues to be a difficult time for Australian businesses, as COVID-19 lockdowns continue in many of our states and territories. As a result, the HR industry is more in need than ever before, working hard to look after employers and employees through lockdowns and beyond. As always, the HR Dept is here to help and advise on any of your employment issues.
News: Changes to employee superannuation fund choice rules.
From 1 November 2021, employers will need to undertake an extra step while onboarding new employees to comply with the choice of superannuation fund rules. Penalties may apply if the choice requirements are not met. Under current rules, when onboarding new employees, employers can add them to their default superannuation fund if the employee has not chosen a superannuation fund. Going forward, for any new employees starting from 1 November 2021, employers will be required to contact the Australian Taxation Office (ATO) if the employee has not chosen a fund and check whether the employee has a "stapled fund". If the employee has a stapled fund, the employer will need to make contributions to that fund as opposed to the employer's default superannuation fund.
News: COVID-19 Mandatory Vaccinations.
State and territory governments have made public health orders requiring certain workers to be vaccinated against COVID-19 in their state or territory. All employers, even when their employees have been vaccinated, have an obligation to minimise the risk of exposure to COVID-19 in the workplace.
News: Sexual Harassment Laws pass Parliament. The government amended the Bill to allow a two-month grace period for the Fair Work Commission to issue stop sexual harassment orders. It has never been more important for employers to review their current policies, procedures, training and other measures to prevent sexual harassment and review whether they are adequate.
News: Casual Conversion Laws. The new law provides organisations with a clear definition of what a casual employment arrangement is, guidelines for assessing and transitioning casual employees to full time employment and details how entitlement claims are managed following assessment/application of casual conversion.
---
Supervising Kids While Working From Home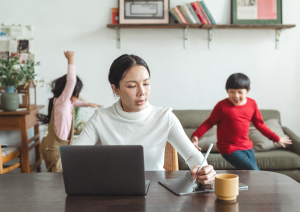 As any working parent will testify, lockdowns are difficult. Juggling a job and parenthood is hard at the best of times, but when the two things are both happening at home, it becomes slightly more complicated.
For employees at a Sydney council, working from home was made even more difficult when they were made to sign declarations that they weren't supervising their children while working.
Workers at Bayside Council received an email during the initial stage of Sydney's citywide lockdown, declaring that "working from home and supervising home learning is not permitted". The email said parents should make other arrangements for their children's supervision or take annual or long-service leave.
Bayside Council's actions raised important questions around entitlements for working parents during lockdowns. It is worth knowing, then, that under the Fair Work Act, employers can't take an adverse action against employees because of family or caring responsibilities. Employees also can't be discriminated against for having carer's responsibilities under state anti-discrimination laws.
Realistically, working parents in the midst of a lockdown are going to have to juggle parenthood and employment. How can employers assist? How can you support your employees working from home with children while also helping them remain productive?
Offer support and understanding
A simple acknowledgement of the situation can mean a lot to a parent who is struggling to balance their job and their children. Empathise and offer a listening ear, assuring your employee that you understand the difficulties associated with working from home with kids.
Accept flexible schedules and interruptions
It's unrealistic to expect working parents to clock in at 9am and clock off at 5pm. Their working day will most likely be fragmented. If, as an employer, you are able to offer employees the opportunity to work to a personalised schedule, it will be greatly appreciated.
Employers also need to understand that children will interrupt work calls, Zoom conferences and virtual meetings. Be tolerant and accepting of interruptions.
Lower expectations and amend productivity targets
It's important to understand that some employees simply will not be able to meet KPIs while working from home with children. If you can amend productivity targets on a temporary basis, your employees will be extremely grateful (and keen to increase productivity when back to a normal working schedule).
Keep teamwork alive
Foster teamwork and a sense of community, even when staff are not physically able to come to work. Encourage employees to use Zoom chats and instant messaging platforms to stay in touch, check in on each other's wellbeing and keep up a spirit of camaraderie. Working from home – with or without children – can be very lonely, so encourage a sense of community.
---
How to Remedy Remoteliness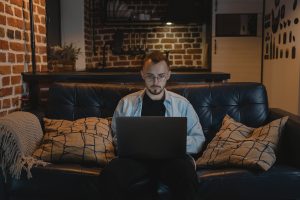 You may have already come across the word "remoteliness". As the word suggests, remoteliness is a feeling of loneliness experienced when working remotely. While remoteliness as a phenomenon has been present amongst workers for a while, it's certainly been exacerbated by the pandemic and its associated work-from-home requirements.
Without the bustle of an office, people can begin to feel isolated and disconnected from their colleagues. When this continues for a long time – as it is in certain parts of Australia – it can have far-reaching health implications.
As with any type of loneliness, remoteliness health impacts may include depression, anxiety, low self-esteem, sleep problems and increased stress. Team members experiencing remoteliness may begin to find it increasingly difficult to communicate on any level, while rapidly losing enthusiasm and motivation for their work.
Managers, business owners and team leaders should be alert to signs of remoteliness among their remote workers – and put in measures to avoid team members suffering as a result of it. It sounds simple, of course, but in reality, how do you spot the signs in employees you don't see in person from day to day?
Keep talking
You don't need to arrange formal meetings about work schedules each day. It's more about opening the lines of communication, to ensure members of your team are chatting, even informally. Encourage your team to use apps such as Slack or Google Teams to instant message each other; email can be very formal – it's best to try and establish an informal chat group, where team members feel comfortable enough to chat and check in, even switching on the video function if they need a personal connection.
Check in with individual team members
We recommend that every manager has a weekly (or, at least, fortnightly) meeting with team members, one-on-one. If a face-to-face meeting in person isn't possible, arrange to talk via Zoom or Google Teams, so you can still see each other's facial expressions.
Spend quality time talking about challenges, struggles, achievements and goals, with team-based plans for the future. Include each team member in the business' future goals, ensuring each individual feels like they're "part" of something.
It's been proven that one-on-ones are effective management tools that promote trust and productivity, as well as helping managers notice changes in behaviour (for instance, if an employee is tending towards remoteliness).
Get together in real life
When social-distancing measures allow, arrange in-person catch-ups for your whole team as regularly as you can. You'll be amazed at the bonds that are formed when team members have an opportunity to socialise outside of a work environment.
Arrange mental-health support
Be proactive about supporting your team. Make a commitment to mental health in the workplace and offer education and training in mental health.
Let your team know that it's okay to not be okay. Look at implementing counselling through an employee-assistance programme or corporate chaplaincy check-ins. Simple, proactive mental-health support measures go a long way in the workplace.
---
The Secrets of Employee Engagement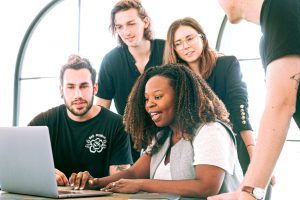 In these turbulent times, with employees switching between working from home and the office at the drop of a hat, keeping engagement high can be tricky.
Even before the pandemic, the cost of disengaged employees was becoming clear, with companies noticing a clear correlation between employee engagement, workplace turnover and employee productivity. In fact, research shows that disengaged employees make mistakes 60% more often than engaged employees do.
At the HR Dept, we believe it's worth making an effort to keep employees engaged, whether they're working at home or in the office. After all, engaged employees are more productive, more motivated, and less inclined to look for alternative employment!
But, how do you hit on that magic formula of employee engagement – especially when your team is working far from the office?
Ensure remote workers feel like part of the team
Just because an employee is working in solitude at home, doesn't mean they're not part of the team. Make an effort to bring your workforce together, even virtually. Arrange a virtual catch up or coffee break for the whole team – without any kind of work-related agenda.
Make sure your team isn't just relying on email to communicate – there are plenty of instant messaging apps available, such as Slack, or Google Teams. The ability to have an instant "chat" with someone can really ensure your workers feel like part of a team.
Provide suitable technology and equipment
Ensure that all technology is set up in the office so that remote workers can easily dial in from home and instantly feel like part of the team.
Similarly, ensure your remote employees have access to the same equipment as your office workers – for instance, are they sitting in a straight-backed chair at the kitchen table to work, with no mouse? That's not ideal!
Set achievable goals
Setting goals is an essential part of keeping your employees engaged in their role whilst they
work remotely. Not only does it allow for accountability and professional growth, making
ambitious goals can keep your team feeling motivated and valued.
Communicate often
Stay in touch with the whole team, wherever they are. What are they working on? What are they struggling with? Is there anything you can help with? Check in regularly to ensure everyone is feeling motivated and productive.
Prioritise mental health
Make it known that your company is focused on employee mental health – encourage mental-health days, flexible work schedules, and access to mental-health initiatives. Foster a culture of communication and openness, where team members feel they can be honest about their mental health.
Offer rewards and recognition
A pat on the back (even a virtual one!) for a job or task well done can work wonders for employee motivation. You might be surprised!
---
Face Masks – What You Need to Know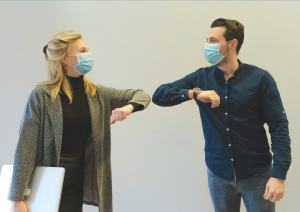 As the pandemic continues to impact lives across Australia, we're all becoming increasingly used to wearing a face mask.
However, wearing a mask at work throws up a few questions. Is it compulsory? Should the employer supply the masks?
Of course, mask-wearing requirements change from State to State and day to day. While we can't offer you a definitive guide, we can try and navigate the rules and regulations, depending on your State's current COVID restrictions and regulations. It's important that you keep up-to-date with the recommendations and directions and ensure that these are followed at your workplace.
The Australian Government Department of Health has published information on when masks should be worn in the community in Australia and general COVID-19 information on face masks and who should use them.
So, let's say your State is currently under COVID restrictions, with compulsory mask-wearing. Where does that leave you as an employer of workers who are still coming into work each day?
The short answer is – your employees need to wear a mask. Employers must take all reasonable steps to ensure that their employees wear a fitted face mask when at work, in accordance with occupational health and safety laws.
Employees must be aware that their employers cannot force them to wear a mask if they have a medical condition preventing them from doing so. Accordingly, if an employee is dismissed in such circumstances, they may be entitled to bring a claim in the Fair Work Commission.
Here's what else you need to know about masks at work:
As an employer, you must provide appropriate training and instruction on how to put on, wear, remove and dispose of the mask.
As well as masks, it is also important to encourage good hand hygiene and physical distancing of 1.5m between workers.
Single-use surgical masks or properly constructed cloth masks may be used.
Masks need to be replaced frequently and stored correctly, in accordance with the manufacturer's instructions.
Ensure that appropriate facilities are provided, including hand-washing facilities and a closed bin to dispose of used masks.
Importantly, talk to your employees. Let them know what measures are in place to protect them and their colleagues, and why you're enforcing them. Encourage correct usage and additional precautionary measures. Work as a team to combat COVID-19.