Introduction: On 6 August 2021, Australia's National Cabinet agreed to a four-step National Plan to transition Australia's National COVID-19 Response from the pre-vaccination settings focused on continued suppression of community transmission, to post-vaccination settings focused on prevention of serious illness and fatalities, where the public health management of COVID-19 is consistent with other infectious diseases.
State and territory health agencies are continuing to issue public health orders across Australia, which require certain workers to be vaccinated against COVID-19. If public health orders are made in relation to your workers, you must follow them.
Information on public health directions in place in different jurisdictions can be found here: https://www.safeworkaustralia.gov.au/covid-19-information-workplaces/other-resources/covid-19-public-health-orders
News: Western Australia is expanding the state's vaccine mandate to a degree that Premier Mark McGowan said will "cover the majority of occupations and workforces within WA".
In the latest announcement, McGowan confirmed the mandate will be enforced in phases.
News: The Federal Court of Australia has ruled acceptance of a 70-year-old candidate's claim of unlawful discrimination, imposing a fine totalling $29,000. The case is a reminder for recruiters to be knowledgeable of their employment law obligations.
News: The gender pay gap is increasing – rather than shrinking – in Australia. While the increase is only 0.8 percentage points over the last six months, the pay gap figure of 14.2% is still disappointing to see. It means Australian women in 2021 have had to work about two months more, on average, to earn the same as men did last financial year.
News: A record number of Australians have more than one job, according to a report from the Australian Council of Trade Unions (ACTU). ACTU's report revealed that 867,900 Australians have more two or more jobs, the highest since the Australian Bureau of Statistics began tallying in 1994.
---
Asking for a doctor's note – the right way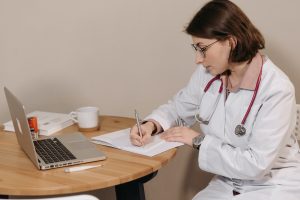 National Employment Standards, under the Fair Work Act, state that an employee taking personal leave must, if required by their employer, provide evidence in support of the leave. This can be a doctor's note or a statutory declaration – anything that provides "sufficient evidence" to convince a "reasonable person" that the employee was genuinely entitled to the sick leave. A statutory declaration, a letter or even an email can be enough to constitute "sufficient evidence".
In general, employers rarely have to ask for evidence of sick leave, and employees rarely need to provide it. Most employers and employees abide by the system of sick leave fairly and reasonably, with an element of trust and understanding on both sides.
Occasionally, however, employers will feel the need to request a doctor's note from an employee. As such, it's important to have preordained workplace policies in place, to make asking for such a note fair and equitable across the entire workforce.
For example, your workplace policy may state that all absences need to be covered by a medical certificate or, alternatively, a medical certificate is only required if the absence is for three or more days. Introduce a comprehensive workplace policy and be aware that you do not have to pay sick leave if the employee fails to provide evidence.
Consider introducing a policy that addresses ongoing absences – for instance, if an employee is regularly taking single days of sick leave across many weeks. If there is an ongoing situation that indicates an issue with the employee's long-term health, it is reasonable to request a doctor's note for every absence and even a medical report, to make sure the employee is able to perform their job.
There is, of course, a fine line between employer concern and an employee bullying claim. In requesting a doctor's note for every absence, an employee could allege the conduct constituted repeated unreasonable behaviour, thus satisfying the definition of "bullying" in the Fair Work Act. As such, clear workplace policies are absolutely essential.
Within these workplace policies, specify the importance of providing information regarding the medical condition. This may seem an invasion of privacy, but in fact, such information is essential in establishing whether your employee is able to perform their job, or what measures can be implemented to assist them in their role.
If an employee has an ongoing medical condition, it can be in the interest of both the employer and the employee to send them to an independent medical specialist who is able to assess their ability to perform everyday tasks. You can demand a detailed diagnosis, but you can request enough information to understand what your employee is able and unable to do at work.
By implementing workplace policies and building trusting, open and honest relationships across your team, the issue of sick leave should rarely become problematic.
---
Is hybrid working right for my business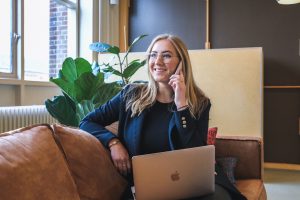 Since COVID19, homeworking was a key focus for many businesses that needed to close their premises due to lockdown restrictions. As a result attention has turned to a different style of working. Google Trends shows us that interest in "hybrid working" has been rising steadily.
Queries rising for hybrid working is a reflection of the times we are living in.
After managing remote teams, employers are seeing the workplace in a whole new light. Does it fulfill the same need that it once did?
If the impending end to all pandemic restrictions has got you questioning how you'd like to manage your workforce moving forwards, the following may help you to decide.
What is hybrid working?
Hybrid working is a flexible style of working which involves both workplace attendance and remote working. Days spent working from home might be fixed or flexible depending on the needs of a business.
Hybrid working may also be commonly referred to as flexible working, due to the flexibility it offers on working location. Although flexible working can also refer to other elements such as flexi-time working hours.
Is hybrid working right for my business?
The pandemic forced many people into trialing home working for the first time. For some, it has increased productivity and well-being. For others, it has been a trying time with blurred lines between home and work.
A hybrid working model may be perceived as a way to achieve the best of both worlds. Wherein employees can attend the office when needed but also work remotely at times if suitable.
When deciding if hybrid working is right for your business, you'll want to consider how it might affect the work that you need employees to do, as well as how they communicate and collaborate with each other.
Mental well-being of staff is another key factor here. Collecting data from your workforce on how they feel about returning to work, or a change in their working habits, can help to inform your decision making.
It's worth noting that skipping this step can cause a disconnect and lead to a breakdown of trust. For example, just days after Apple CEO Tim Cook announced that all employees were expected to be back in the office by September (working some days remotely), a public response emerged from an internal employee group rejecting the plan and asking for a rethink.
Whilst the working model of your business is ultimately your decision, buy-in from employees is good for business. If you can't please everyone, clear communication and explanation will help.
What are the pros and cons of hybrid working?
There are good and bad elements to a hybrid working model. You'll want to weigh up the pros and cons when deciding if it can work for your business.
Cons
• Hybrid working may be fine for existing teams who know each other well, but integrating new workers can be a challenge when everyone is dispersed. Consider your inductions and how they may be affected.
• Gaps in communication can start to appear if there is no agreed plan for meetings. This can also impact collaboration and creativity. Homeworkers should physically attend a meeting or be dialed in to keep everyone in the loop.
• Your pre-COVID workspace, which already may have changed to become COVID-Secure, may need another overhaul to suit hybrid-working. Think fewer permanent desks, more collaboration spaces, and more than likely, increased access to technology. Can you make the switch?
• With employees coming and going at all sorts of times, it can be difficult to physically see if they are under pressure, either from work or personal circumstances.
Pros
• You may be able to save money by downsizing on your property. If employees will never all be there at the same time, do you need the same sized workplace that you did pre-pandemic?
• Flexibility in working style is a workplace benefit in high demand. It can be attractive to job seekers, improve job satisfaction and employee retention.
• It may increase productivity. When workers are given autonomy on their working location, they are more likely to be happier and thus more productive.
Help with going hybrid
If you want to make some changes to the way that your people work, give us a call. We'll help you to navigate a shift to hybrid working that sees your business thrive.
---
Do's and dont's when interviewing for your business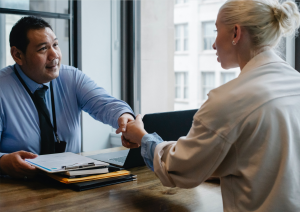 Hiring can be both an exciting and trying time. You're likely to be busy, hence the need for a new person, but you also want to make sure that you take the time to attract and select the right people for your business.
Similarly, job candidates are also going through a process of selection, and first impressions matter to them when seeking employment. As they are preparing to ace their next interview, you'll also want to make sure that you or your hiring managers can operate a smooth process at your end. It's not just candidates that can slip up during an interview.
From having the wrong CV, to keeping people waiting, asking personal questions, or even eating during the interview, all manner of horror stories have made it onto the Internet from candidates sharing their unfortunate experiences.
Holding a professional interview is not only vital for getting the right person, but it reduces the risk of discrimination and a claim against your business; plus it saves you from a potential PR nightmare.
Prepare your interview questions
Employment law applies from the moment you post a vacancy, and there are certain "do's and don'ts" when it comes to interviews, particularly surrounding the questions that you ask. Are you confident that those recruiting for your business are following best practice?
A basic understanding of equality law is necessary to make sure that, however innocent, inappropriate questions are not asked during an interview.
The following characteristics are protected from discrimination under the Equality Act 2010, and questions on them should be avoided: Age, disability, gender reassignment, race, religion or belief, sex, sexual orientation, marriage and civil partnership, pregnancy, and maternity.
For example, questions like: How old are you? Are you married? How old are the kids? Shouldn't make the cut.
It's also wise to steer clear of contentious subjects like politics or pressing too much for answers. Your questions should tell you enough but not too much. Your interviewee's questions will tell you how much they have thought about the role. A top tip from us, avoid those who ask how much sick entitlement they get.
An interview gives you dedicated time with a candidate so that you can both discuss suitability for the role. To get the most out of this time, it is wise to do some interview prep to avoid repetition or missing out important questions. During this time, you want to find out if they have the right knowledge, skills and attitude to do the job. We always say that attitude is probably the most important.
Prepare the environment
Consider the location of your interview too. Does it give a good first impression of your business? If you're interviewing virtually, are your background, lighting, camera angle and sound presenting you as you would wish?
Will you have stages of interviews and incorporate specific tasks or psychometrics to evaluate skills and ability? These elements need to be thought about well in advance to give you the best possible outcome.
Stay in the know
Along with knowing both the legal and best practice requirements of interviews, it's also important to keep in mind that recruitment is different in 2021. COVID-19 pandemic has had an impact on the availability and needs of job seekers.
If you're using the same hiring practices that you did three years ago and are not seeing results, it could be time for a review of your recruitment. Get in touch to find out about how we can help.
---
Understanding and preventing imposter syndrome as you bring staff back to work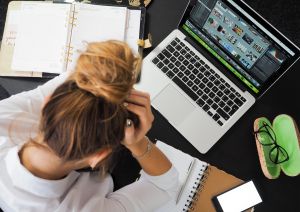 Thanks to the continued easing of lockdown restrictions, many business owners are gearing up to bring staff back to work. Some already have done and find themselves navigating the post-lockdown workplace with new challenges for people management.
We often hear talk of getting "back to normal", but question just how normal work can be after more than a year of the pandemic? Businesses and the people within them have changed.
Managers and team leaders may find that they need to adjust in order to support staff and help them reach their full potential, post lockdown.
A key area for consideration is that some staff may feel nervous to return, especially after a prolonged period of furlough, or if they are returning to a different role with new responsibilities.
This is understandable and nerves are to be expected after such a life changing event with much uncertainty. However, if they are left unaddressed, they can spiral and lead to complications.
What is Imposter Syndrome?
The impact of the pandemic on mental health is expected to outlast the presence of the virus. One such risk for managers to remain aware of, which can arise from periods of uncertainty, is Imposter Syndrome.
Imposter Syndrome is a debilitating condition that can leave capable, experienced employees second guessing their abilities. The self-doubt caused by Imposter Syndrome can make a person feel as though they are masquerading in their role. They imagine that at any moment they could be found out and exposed as a fraud, despite having a proven track record of success.
This can be very stressful. An employee with Imposter Syndrome may be experiencing anxious thoughts, they may agonise over mishaps, and their work and health can suffer as a result.
Why does Imposter Syndrome happen?
There are many complex factors that make up an individual's susceptibility to Imposter Syndrome. From childhood upbringing to struggles with confidence or underrepresentation.
It can happen to almost anyone, although a higher presence of symptoms has been reported amongst high achievers and those from minority groups. Research tells us that women, LGBTQ+ and people of colour are more likely to be affected.
Time away from work, whether that be maternity leave or furlough, can also play a part.
Preventing Imposter Syndrome in the workplace
A positive to come from the past year is that stigmas surrounding mental health are dissolving.
Conversations around the importance of maintaining good mental health, in addition to good physical health, are becoming more common place.
A supportive, encouraging, and inclusive company culture can minimise feelings of isolation, which fuel an anxious mind. Whilst positioning failures as growth can help to tackle the unattainable perfectionism of Imposter Syndrome.
Admitting self-doubt in one's own abilities at work can be a hard topic for employees to broach. However if they feel valued and know that your door is always open, they are more likely to open up and seek support.
Lastly, you may like to consider a training and development programme that acknowledges and celebrates milestones in learning. It can be helpful to remind employees of the knowledge they have gained during their time at your company.
Understanding and combatting Imposter Syndrome can lead to wider discussions about the well-being of your workforce. If you have doubts about how to proceed, remember that we are here to help.