Introduction: As Australia's economic outlook weakens, many employers are finding it increasingly difficult to conduct business. Inflation and rising interest rates are definitely taking their toll on the average Australian business, making it tough on employers and employees alike. If you're struggling to keep on top of HR issues, or just want a helping hand along the way, please get in touch with the HR Dept – we're here for you.
News: The Black Dog Institute has launched two new mental health training programs for leaders in the workplace. The programs have been introduced to address the impact of mental ill-health on the economy, which costs Australian businesses up to $39 billion each year due to lost participation and productivity.
News: Australian organisations are leaders when it comes to diversity, equity, and inclusion (DEI), according to Randstad Enterprise's 2023 Talent Trends Report, which surveyed over 900 C-suite and HR leaders in 18 markets, including Australia. According to the report, 90% of business and HR leaders in Australia have confirmed that DEI is embedded in their talent strategy, higher than the global average of 81%.
News: A survey from PasswordManager.com found that 47% of 1,000 workers are still using their employers' passwords even after leaving the company. More than half (58%) said this is because the passwords had not changed since they left the company, 44% said someone still working for the company shared it with them, while 6.2% said they were able to guess it.
News: Researchers from The Future of Work Lab at the University of Melbourne have found that young and middle-aged employees have "poorer mental health than other workers" since the pandemic. "Australian prime-aged workers are exhausted, less motivated about their work and unable to concentrate at work because of responsibilities outside of work," the report said.
News: In a LinkedIn survey, Hays has found that 40% of Australians think a four-day work week will be a reality in the next five years. The survey was carried out amid growing conversation on the introduction of a four-day work week scheme in Australia.
---
The Benefits of Employee Benefits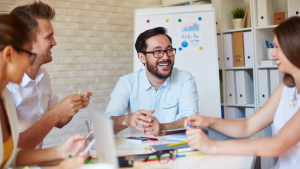 Achieving staff satisfaction and loyalty is not just about salary; it's about the whole package and the culture that you as an employer provide. A pertinent illustration of this are the results of a recent survey showing that 61% of staff would consider changing jobs to increase their holiday leave and 1 in 3 indicated that they would take a pay cut to secure more days off.
These latest findings bolster the case for ensuring good employee benefits to assist with recruitment and ultimately retention as well.
Most companies will be fully aware of the logistical cost of replacing an employee with expenditure such as advertising costs and agency fees, as well as invested time such as interviewing prospective candidates. But the money lost in productivity during handover and induction periods can spiral even further and this is a factor that is often not properly considered.
With the costs of recruiting taking a serious chunk out of budgets, SMEs should be reviewing how they can retain their staff for longer. Providing the right mix of employee benefits can be a critical component in a successful long-term plan for attracting and retaining employees.
Giving your staff access to these benefits will not just mean you increase your chances of holding on to them it can have the bonus of delivering improved business performance as well. Research has repeatedly demonstrated the links between the way people are managed, with the attitude of employee and business performance. Giving employees options like Employee Assistance Programme can help your business as well as improve staff wellbeing.
To find out how we can help you with the recruitment and retention of your staff just give the HR Dept a call!
---
5 Ways To Promote a Healthier Workplace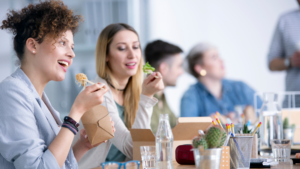 Here are some ways in which you can promote healthy lifestyles, which can lead to a happier, more resilient workforce and better productivity:
The complimentary fruit bowl
Providing free fruit for your team promotes healthy snacking.
A discounted or free gym membership
Gym membership is a desirable employee benefit, as there is something for everyone: from gentle trainer-led classes to intense cardiovascular and weight-lifting regimes.
Encourage cycling to work
By cycling to work, employees can get their recommended daily exercise, save up to $15,000 on fuel, parking, and car repairs, and help limit climate change.
Medical benefits
Employees get the convenience and quick access to experts.
Mental health initiatives
A cost-effective Employee Assistance Programme (EAP), which includes free counselling for struggling employees, is advisable for almost every business.
Need help choosing the right benefits?
We can advise on tailored packages for any budget, so if of interest please contact your local HR Dept office.
---
Managing Conflict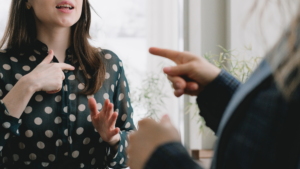 Failing to monitor workplace communication can lead to an escalation of conflict.
The discrimination cases are endless against employers that fail to act on complaints about discriminatory language, which can really hurt SMEs.
There are several things you should be doing if you aren't already. Have a clear policy that sets out what is, and what is not, acceptable – and then monitor it.
Have a clear grievance process so that anyone feeling bullied or intimidated has a way forward.
But don't jump the gun and presume guilt – investigate and gather evidence before taking necessary action.
Train yourself and your management team to spot problems. With these skills, your management team will have the confidence to nip any conflict in the bud.
Managing workplace interaction isn't easy and we have never seen two cases that are the same. But although your circumstances may be unique, you can always ask the HR Dept for support.
---
Tough Interviews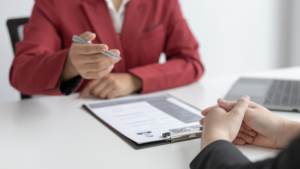 Unlike many aspects in recruiting, the interview scenario is subjective and dependent on the organisation running it.
The process you undertake will vary upon the role you're recruiting for, but please exercise consistency.
Although candidates are not yet employed by you, they can still make claims for discrimination. Be consistent in how you select CVs, how you interview and the way that you compare candidates. This could be by preparing key questions in advance and asking each candidate the same ones – this allows you to be more objective.
The HR Dept is, of course, here to help and advise.